We are expanding!
Need a communication Designer. Apply within.
Diploma or Degree in Graphic Design, Communication Design or Multimedia
Good communication skills, required to converse, read and write in English. Mandarin would be advantageous
Strong conceptual and design skills
Must be willing to learn and adaptable
Hardworking and able to manage time well
Malaysian citizens or hold relevant residence status.
Photoshop, Illustrator and Dreamweaver skills
Flash and Mac OS preferrable
One month of hard and diligent work finally paid off. The bright and brand new Scuba Dynamics website is finally launced. As of 1st March 2008, history is written. Scuba Dynamics is a great dive shop in the heart of Desa Sri Hartamas.
Truly a sincere and honest little operation, we at Eskaywoo are proud to be part of the project that brought about this great piece of work. Enjoy.
Panasonic KX-T2375MLW
How to set the time.
1. Press: Program, Mute, 6
2. Enter the time (4 digits).
3. Press # to select AM/PM/24H
4. Press Program
I found that I had no manual. So I'm making it easier for anyone who would stumble across this entry. I hope this helps.
(taken from : http://www.howtomendit.com/answers.php?id=84135)
Love the size. Love the productivity.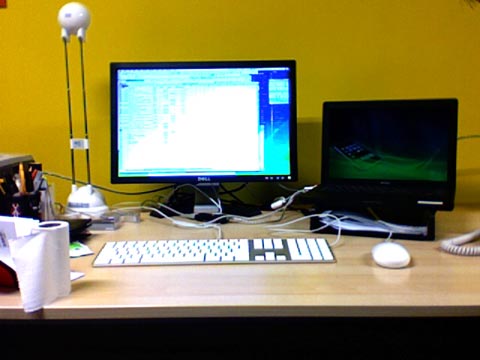 With the MacBook's screen spanning, work can be done faster and more enjoyable too.
Office upgrade oh, not bad not bad.
I know… my MacBook's 13.3 in screen is a bit small.
And I have always wanted the Apple 22in Cinema display. Of course, now they have the 30″ HD Display.
If I could, I would. Large screens help with productivity. Hence, when Dell's monitors went so low in price, I decided to get one.
Yes! Great screen estate!
I know it's not the best, but it meets my needs now and the price is hard to beat!
Now I got even more reason to go work at my studio.
I stumbled upon this while doing a search.
I was wondering why my modem was not Maxis branded, and I thought it was all like that. Apparently not.
Here is an early adopter and his modem.
I just got my modem yesterday.
After reviewing Celcom and Maxis's plans, as well as another company's apparent 4G plans, I decided to go for the Maxis one.
The USB modem package for 18months is RM138 per month. It includes the use of a Huawei E220 3.5G (HSDPA) Modem capable of 3.6Mbps. The modem outright will cost RM1,338 or so. I found some on the net selling for RM940. But that's a really expensive investment.
I took the LRT to KLCC Suria and went to the Maxis Centre there. Service was great. I got everything done under an hour. And was surfing at the Maxis Centre itself. I could not wait to test it out. It worked well with a minor driver installation and the software worked without a hitch on my MacBook.
Update: 13/11/2007

Celcom's package starts at RM68. However, it DOES NOT come with the necessary modem. A PCMCIA card type modem would start somewhere at RM350 and the Huawei E220 USB modem is said to cost about RM1,300+. 

Since I am not willing to shell out that 1K for the modem, I went with Maxis… (and other reasons for not choosing Celcom)
The package that it comes in is like a DVD albeit a little thicker.

The package. Very neat.

Opening the pack. You get the modem inside with the CD ROM of instructions and a Mac OS driver and Dialing App.(Note, that's my precious MacBook underneat, with the sleep light pulsating.

See the entire contents. It's got an installation CD for Mac OS X, the modem, that takes in a SIM card. A USB cable. Another USB cable for additional power. A 3G SIM card, and a double-side foam sticker for attaching your modem to your PC or Laptop computer (if you want it permanently attached.)
Neat. Below is a screenshot of a test I did at a spot in Brickfields yesterday. It went up later, to about 800k+.